The THINK OUTSIDE THE SOX CONTEST
The Think Outside the SOX contest was about artistry within truly functional socks.  The contest rules were published on the Internet in March 2008, with entries due by the end of the year.  Judging took place at Stitches West in late February, 2009.
I entered two pairs, and while neither pair won, in May 2009 I received a letter stating that XRX, Inc., the contest sponsors, wrote to say they wanted to publish the pattern of one of my pairs in its book with the winning socks!  When the letter arrived (yes, a real letter with a stamp), XRX hadn't mentioned which pair had won.  The next day, the "unwanted" pair arrived here, so all was revealed.
And the published pair looks like this: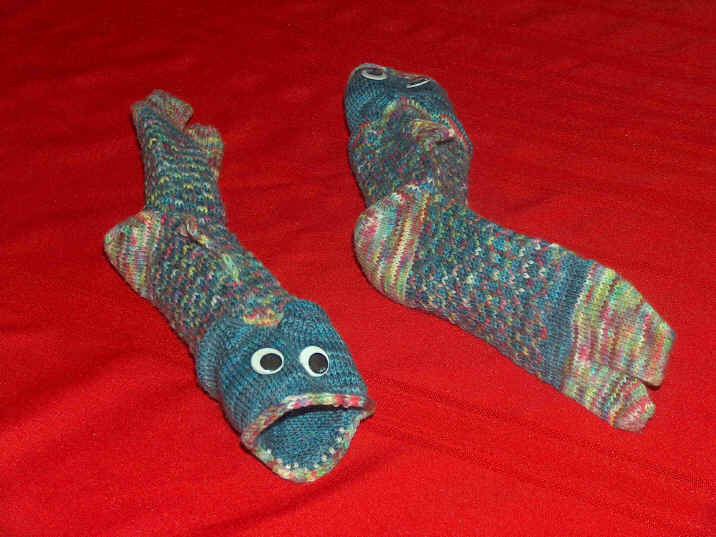 JAWS!
These take 12 pages of instructions to knit.
See below for some close-ups of details:
The toe: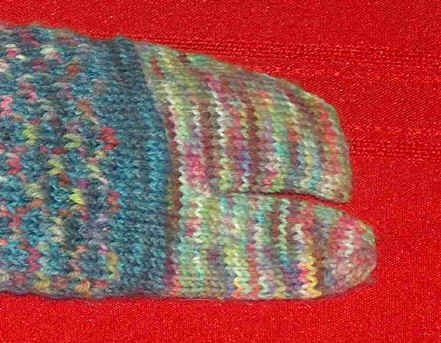 The mouth, complete with teeth: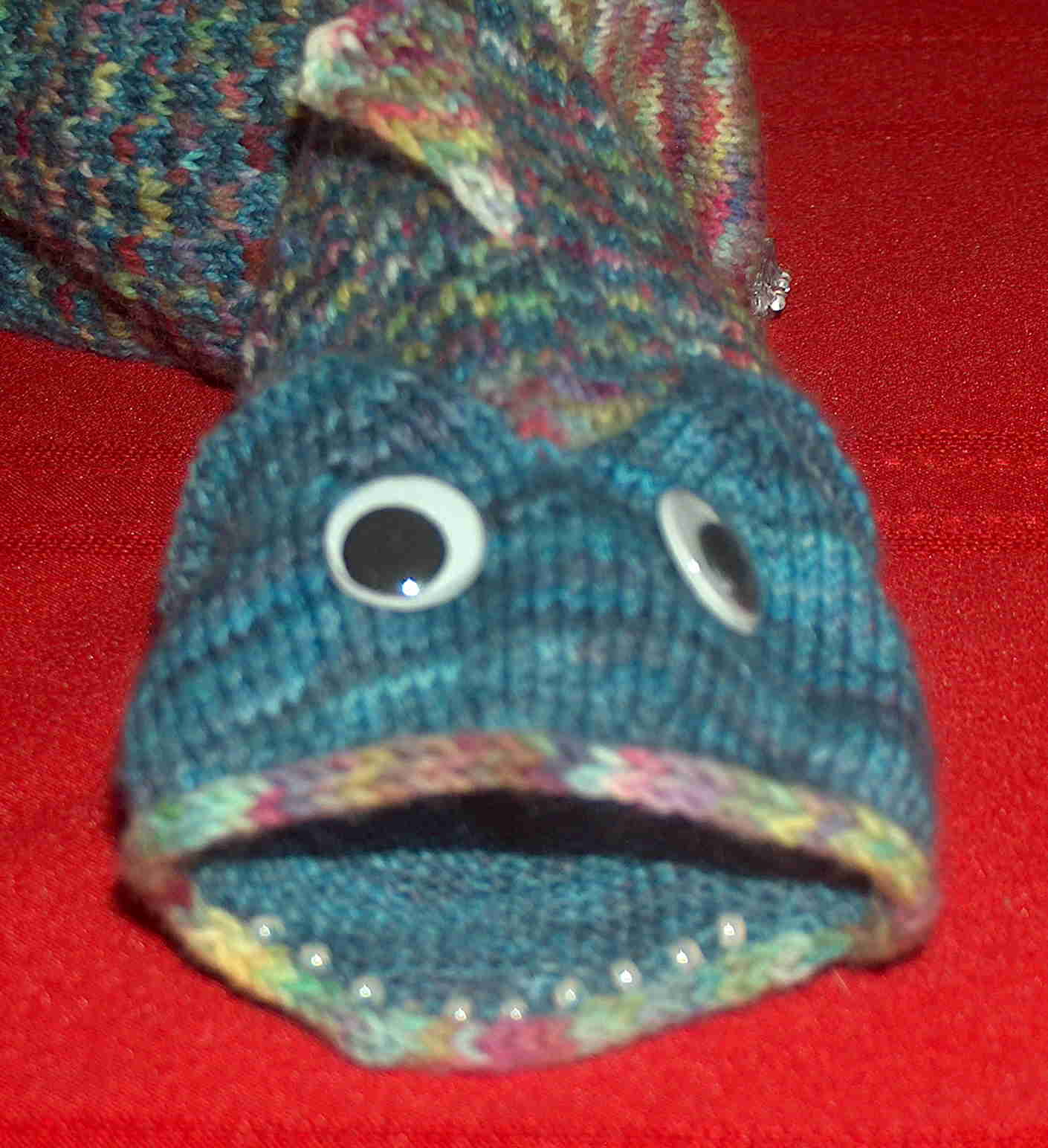 And as for the other pair of socks I entered that will simply go on my feet?  They look like this: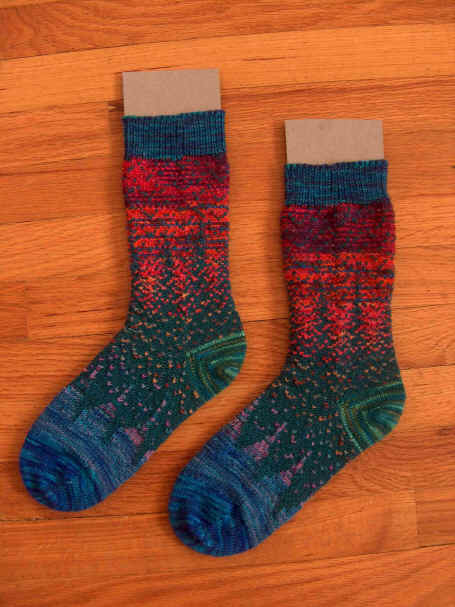 Title: Fibonacci Trees
The Fibonacci number series goes like this: Start with 1+1=2.  Now take the last two numbers you see and add them together: 1+2=3, 2+3=5, 3+5=8, 5+8=13, at which point I stopped the pattern.  (After this is 21, 34–you can see the the numbers become too large to work with).  The Fibonacci series used is 1-2-3-5-8-13.
I drafted this pattern in Adobe Illustrator and then let the pattern speak to me as to what it suggests.  I see trees on a lake.  Other people see a Buddhist temple (where the blue at the toe becomes pink almost halfway up the foot).  Just for fun, here is a close-up: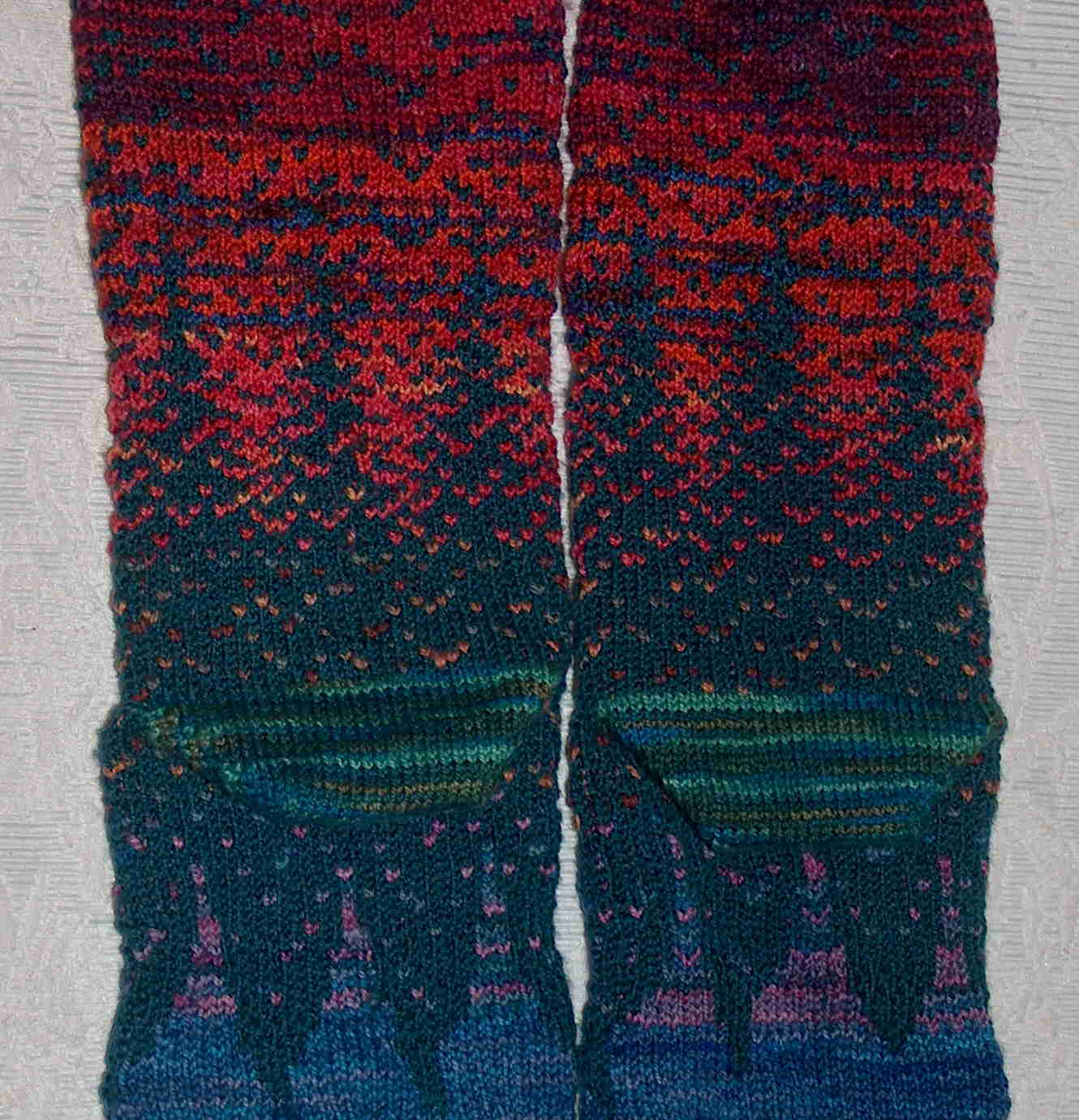 The yarn used is Cherry Tree Hill Supersock, and these took nine colorways and one solid color (which means a LOT of leftover sock yarn for still more pairs, although I used some to knit a clock face!).  I was really sad that these weren't to be the published pair, but you gotta admit: JAWS is pretty cool!