I felt like I had gone back to the point in time when people would often live with the Master musician who was teaching them….As each concept sank into my brain and body, the right notes started coming back more easily, better sounding, and much more fun to play.  I progressed much further than I expected and now feel the confidence to be more adventurous in making music and not simply trying to play right notes.  If you want to move on to making music, or are playing with any kind of pain, try the B&B lessons.  You'll leave feeling great about your playing (and well fed!).   —–hammered dulcimer player Charles Smith, Washington State
You can read more comments from B&B "graduates" by clicking here!
---
You say you'd like some concentrated instruction to jump-start your dulcimer or autoharp playing to whatever level?  How about getting away from it all to submerge in five days of music study with a master teacher and performer, who will also cook for you and show you the local sights?  Come on out to mile-high Denver, Colorado and I'll take care of the rest!  My instructional focus is mostly hammered dulcimer and autoharp, but I also help injured musicians on any instrument.

What B&B Students Study
What do B&B students study?  Just about anything, along with whatever else I flesh out that each students needs to play easily and sound great!  Here are some of the topics past B&B students have focused on (by the way, each student delves into more than one topic on this list):
Tunes! (absolutely!)
Mastering valuable techniques, including but not limited to: Hammered Dulcimer: Tone enhancement, stroke order, freeing yourself to move, mastering two-stroke

rolls

,

syncopation

, easy play at any tempo, etc. Autoharp (diatonic and chromatic): Tone enhancement, strumming techniques, fingerpicking/fingering, making good melody-

chord

choices, how to "pump felt" (diatonic only), using all your strings, singing accompaniment, etc.

ergonomics

and injury reversal/prevention (all instruments, folk and classical; click here for an introduction, and be sure to visit your doctor beforehand to rule out any kind of organic disease)
How to play music atypical to dulcimer/autoharp (jazz, classical, etc.)
Finding the dance in the music
Contest coaching (all folk instruments)
Arranging tunes (all folk instruments, a big part of contest coaching)
Or, what have you?
Whatever you want to study, you can do it here at your own pace!  The only limitation to the B&B concept is that you need to have enough playing experience from which we can spring forward.  (If you are a true novice, put in some practice while saving your shekels.  You'll get more out of B&B lessons that way, and you'll come here knowing what kinds of topics you'd like to study and tunes you'd like to play.)

Hammered Dulcimers Are Available to Play Here
A hammered dulcimer is obviously tricky to ship for those dulcimer students who fly here, so I offer hammered dulcimer players the option of playing one of my personal dulcimers.  I have two 15-15s by R. L. Tack & Son (Professional and Lightweight), one 15-14 chromatic MasterWorks, and a 12-11 Dusty Strings Apprentice.  You are certainly welcome to bring or ship your dulcimer, too (it's always better to play on it); I just know how worrisome shipping "your baby" in a big box can be!  I have an all-ways adjustable dulcimer stand for your use also. All you need to bring are your hammers, music scores and instructional materials.

Accommodations and Meals
Your accommodations are a basic, comfortable room in our home, pictured below.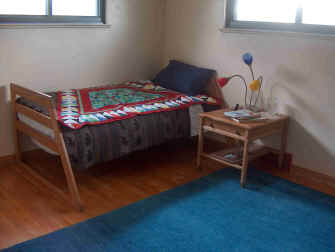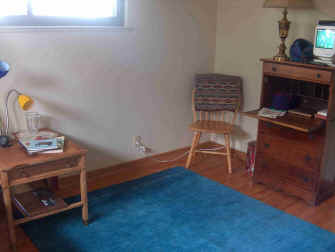 Your room awaits you in Colorado! Left: The dulcimer-shaped quilt on the bed was stitched by hammered dulcimer player Norine Humm of Michigan.  Other gifts from fellow dulcimer players, such as the vase and doily on the end table, grace this room, along with books written by autoharp students.  Right: The two bowls on the gentlemen's desk were both knitted and felted by me. (PS–The rug is not solid blue.  Wait 'til you see the detail!) 
As for meals (which include lunch and dinner), your instructor doubles as chef, making the best pizza in metro Denver right here from scratch, while developing menus catering to musicians with special dietary needs (diabetic, gluten-free).  (Let's not forget good old meat loaf and mashed potatoes, too!)  When the weather is warm enough, we can also enjoy appetizers and s'mores at the chiminea on the patio. We usually eat out once or twice while sight-seeing.  The chef hopes you'll give her one night off from the kitchen by preparing dinner for us, even a simple one.  We'll go shopping while you are here; just be sure to bring with you those unusual ingredients that may be harder to find in Denver than you think.  (We managed to hunt down some filé for Cajun chicken gumbo that one student made, but it took several phone calls to locate it and a 20-mile, round-trip drive to get it!)  We will go grocery shopping, and your instructor is happy to sous-chef while you work your magic. A two-block walk from our home to the bus stop begins your journey to downtown Denver (The Tattered Cover bookstore is a popular haunt on the 16th Street Mall, along with great restaurants all around).  Weather permitting, Estes Park and Rocky Mountain National Park (boasting 14,000+ feet in altitude!) are still more must-see sites.  It's a bonus when I have a local performance coinciding with your visit, but if not, you will surely hear private performances at home.

The Daily Schedule
     This schedule is approximate.  Depending on the subject matter of the moment, lessons can flex to be more or less time than the 45 minutes allotted.  (We may even have a "lightning round" some time!)  In the end, it all works out.

8:00 or so: —breakfast and conversation
9:00: —lesson (first day: tune up, warm up, practice beforehand, if needed)
9:45—: coffee/tea/water break
10:00: —practice on your own
11:00: —lesson
12 noon: —lunch, rest, read, take a walk around the block…
1:00: —practice on your own 2:00: —lesson (this one may be deleted one day in the event of a longer sightseeing trip)
2:45: —"hard-drive burn-in": brief review on your own to solidify afternoon concepts OR review, answer questions, tweak concepts of the afternoon
3:00 or so: —rest, have some fun: see local sights
ca. 6pm: —dinner
after dinner: —"talk shop", jam, practice, read, watch TV, whatever.

Cost
$850 covers about 10½ hours of private instruction, access to my personal tune collection and books related to music making, six nights of accommodation, all at-home  meals, travel by car to local destinations, including pick up and drop-off to airport or terminal if you fly to Denver. Expenses on your own include transportation and instrument/accessory shipping to/from metro Denver, nominal bus fare for a downtown Denver excursion (currently $2.25 each way), an occasional meal out, and who knows?  Maybe some souvenirs to take home.

When Are Lessons Available?
B&B lessons are available any time of the year that's convenient to both you and me (be sure to see the Weather Note as you plan when to come).  The best times to schedule are January (unbelievable, but yes) through May, August, October and November (before Thanksgiving).  Other times of the year are possible, too, as long as I'm not on the road performing.  The week immediately before Easter is not possible, due to Holy Week commitments. Lessons can start and end at any point in the week.  Monday through Friday is what most students go for, but if you are flying and airfare costs are a concern, consider study on Thursday through Monday to take advantage of what are usually cheaper flights on Wednesday and the following Tuesday.  Or choose some other five-day range, remembering that you'll need to arrive the day before your first lesson.  (Note that I go to church on Sunday, so no morning lessons that day.)

How to Sign Up
First, with two or three date ranges so I can pick and choose.  I request at least 12 weeks lead time to make sure I can fit you in on my calendar.  Once you write, it may take a few days or even a week for me to get back to you.  I check web-site mail once a week.  Hang in there; I will respond. Once your B&B dates are secured with an initial deposit of $100, I will send you a questionnaire to fill and return well before your time here that gives me an idea of your background, past music experience and food preferences.
About three weeks before your arrival, you will receive an electronic welcome packet that tells you more about travelling here and what else to expect.  If you are driving, let me know and I will supply you with directions to the house from anywhere in the US! And did I mention that our cats will greet you with open paws?  (We have three, and they all adopted us.  More about them when you get here.)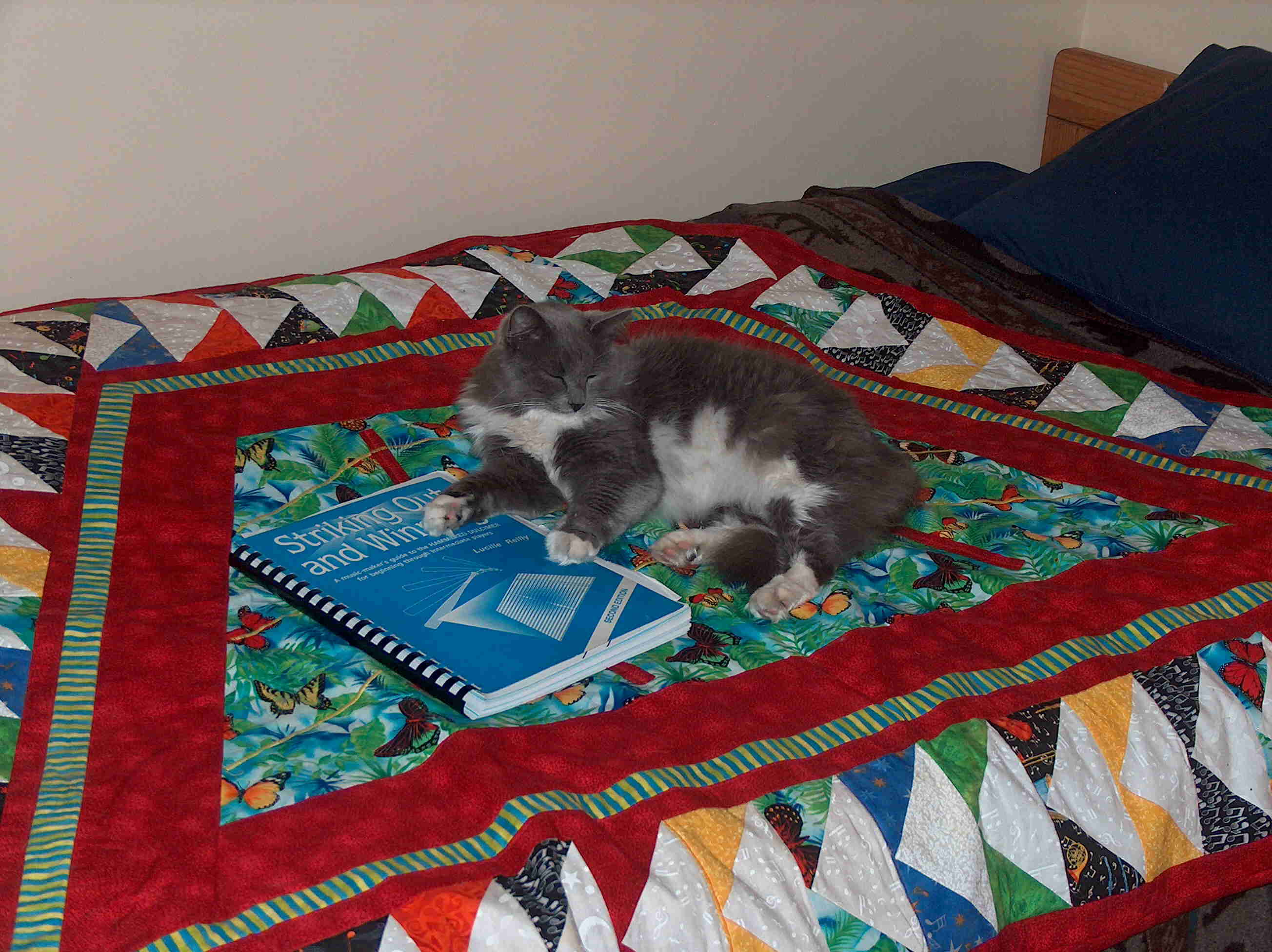 Even our cat Sheebah is learning how to play the dulcimer (paws-on!) with the help of my book.  Click here for more information.

Weather Notes
Denver is brilliantly sunny much of the year, with low humidity (I once happened to catch The Weather Channel when it posted the humidity at 2%), thanks to mile-high altitude (we are a little higher, at about 5,440 feet).  A swamp cooler provides relief during the summer months, making this a delightfully cool (in temp and vibes) space in which to study and practice.
When we do get significant precipitation, it can sometimes translate into a major weather event.  We often get a fair amount of snow, sometimes ice, during (surprise) the last week of October, right around Halloween.  The month of March is supposed to be Colorado's snowiest month, but recently we've seen a big snow overtakes us in April, even towards the end of the month.  We've even had six inches of snowfall in mid-June!  Amazingly, January and February are balmy, often sunny and in the 50s.  Tornadoes?  The sirens have gone off only a few times over the last ten years, with twisters thankfully landing some 30 miles or more east of us. (Whew!)  All in all, if you fly here, you only have to be concerned about getting here.  If your airline cancels your flight home, you've still got a bed and good food here.  The Weather Channel and its Internet version are good sources by which to plan your clothing needs while you are here.
Contact me with your date preferences and let's start planning for an incredible experience that will carry you forward!

More comments from B&B "graduates"
If you feel your playing is boring, with —the same old tunes sounding the same old way—, you are probably where I was before I took the plunge into B&B lessons.  Lucille showed me how to put life into those jigs and reels [and anything else! —Ed.] by giving them "that sound."  Where else can you find an opportunity to be the sole student of a great teacher, player and cook for five days?  It will have a profound effect on you as a person as well as a player.…Our local dulcimer group was having its monthly jam and our group leadER stopped us right in the middle of a song and announced that she couldn't believe what an improvement I had made.  I let everyone know that Lucille played a major part in that improvement.   —hammered dulcimer player Chuck Spaulding, Washington
I found Lucille to be an outstanding instructor.  She not only has a profound mastery of the dulcimer but also a profound understanding of effective teaching techniques….Students interested in more than playing fast can fully take advantage of the wealth of information Lucille is willing to impart.  She expends a tremendous amount of energy and is absolutely committed to the one student she is working with for the week.   —hammered dulcimer player Nena-Joy Almodovar, two-time B&B student, New Mexico
From Day One, I received insights and instruction into not only the Hows but the Whys of getting optimal sound out of my autoharp.  I loved that I got to work on the music I brought along; all the work I did was on tunes I love.  Lucille's musical knowledge, her eagerness to share, and, most importantly, her ability to pass on that knowledge in a way that made applicable sense, made the week extremely productive.  I can tell you honestly, both my fingers and brain got quite a workout!  And it was all done in an environment and atmosphere that made me feel completely safe to learn from my mistakes.  I worked hard, but I had a great time doing it….[B&B lessons are] so very different and so very needed in the autoharp community.  [Judy, thank you for the awesome chicken gumbo you made for us, too! Ed.]        –autoharpist —Judy Dugas, Texas
Since I got back [from B&B lessons], my voice teacher and others who have heard me play say I'm playing much stronger and my confidence in general has increased dramatically, so that my performance is much improved.   —autoharpist and singer Kathy Harris, Arizona
Thank you for helping me along my musical path.  You an amazing musician, excellent teacher and divine cook….I truly do believe in what you are teaching…I want to advance as far as I can go with hard work….You are one-of-a-kind, a musical genius….Your willingness to share your knowledge and teach others is remarkable.  Keep it up!   —autoharpist Nancy Hay, two-time B&B student, Pennsylvania
If you really want to move to the next level of playing, go see Lucille!  Old Chinese proverb says, "Better an hour with a great teacher than 1,000 hours of solitary study."   —autoharpist Sue Metzler, Texas
The week of complete immersion that I spent with Lucille Reilly was incredible.  Her personal attention, insight, thoughtful diagnosis and individualized approach were remarkable.  If she will have me return, I will absolutely be back.  (And I still miss her kitty cats.)   [Sure, Mike, come on back any time!  The cats are still asking about you. Ed.]   —autoharpist Dr. Michael Wolkomir, Wisconsin