The dulcimer class far exceeded my greatest hopes.  It was a wonderful week.  My friends and family who've heard my limited repertoire up to this point are fascinated by what I've learned.  Thanks for everything!   —–Alice Williams, Alabama
---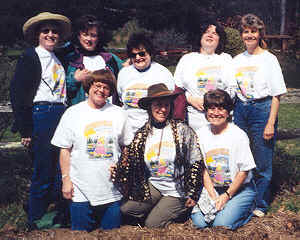 Left: The Southern Belles Autoharp Class front: Karen Daniels, Lucille Reilly, Laurie Searle back: Jeanette Sheeran, Carole Outwater, Anne Martin, Laurie Simpson, Jennifer Cordier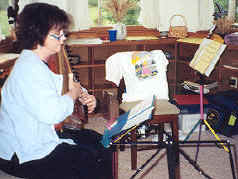 Right: Carole Outwater devises a new harmony for "Little Liza Jane" in a "pull-away" moment during The Southern Belles Autoharp Class.
Any of the topics offered on the Workshops page can be extended into full-blown classes lasting three to five days.  Click on the following links to see just the beginning of many possibilities!
Why wait for a folk-music venue to come up with the subject you and your friends are itching to explore in a class setting?  As "The Southern Belles" pictured on this page well know, simply "roll your own" class in your locale!  Pick a time convenient for you and 5-7 others who share your interest and a meeting place, then work out the cost per person based on all expenses.  With at least six months' lead time, you can often have the time of your choice.  Top off each class experience with a house concert (or larger) presented by yours truly (hey, invite your friends!), and you've got a mountaintop experience to carry with you for years to come.
For more class comments, click here.
Five-day classes are ideal for summer-school settings and any time of the year.  If you can't wait until the next round of summer classes comes around, just "roll your own" class, as The Southern Belles (pictured above) did for an unforgettable time that fit into everyone's schedules.  Each day is structured with set hours and a daily schedule.  (Usually 9am-4pm with an hour for lunch.)   What happens in between is flexible: we mostly meet together, everyone  gets "pull-away" time to practice on his/her own, and I meet with students individually for private coaching as the need arises.

 At the end of the Southern Belles class, we took time out from the music to make herbal sachets to take home.
All participants receive a questionnaire to fill out and return well before class begins so I can tailor the class to fit your needs.  Any number of topics are possible, so dream high!  I can teach most anything and am always eager to explore new territory, especially in the upper echelons of playing.  For starters, click on your instrument of choice below to view a few suggestions, then dream about what else you'd like to study.  See the Workshops page for ideas, too.  To arrange for a class in your locale, contact me.

Comments From Class Students
Thanks again for the many hours of preparation you spent on our class, for your energy and passion for music, and for your willingness to share your skills and knowledge with us.    –autoharpist Jennifer Cordier, Georgia
Lucille went far and beyond the call of duty to help us learn as much as possible…even spent time in the evenings to help us learn everything we could.  She was fantastic, Grade: A+.   —Craig Harrel, 2008 Mountain Laurel Autoharp Champion and International Autoharp Champion, Texas
Classical to folk, Lucille Reilly is master.  I learned how to really listen to music.   –autoharpist Bruce Hoffman, New York
I really feel I benefited from the [autoharp arranging workshop] sessions…I'm already looking at my music expression in a different way, and for that I'm truly thankful.   –autoharpist Kay Stivers, Colorado

Hammered Dulcimer Classes
Title
Level
Description
Beginning Hammered Dulcimer—
Beginner, and for anyone in need of a refresher
When I say "beginner," I mean I will start from the very beginning! You'll get a jumpstart on playing well. Covers the basics of holding hammers, how to strike the strings (there's a little more to it than meets the eye), playing tunes rhythmically, how to get tunes in your head so they stick (forever). If I have five days, I can teach two-stroke

rolls

as well. Even if you've just begun to play, this workshop will help you fill in some gaps. And your friends will be impressed when they next hear you!
Tunes, Tunes, Tunes
Advanced beginner and up
Learn to play as many tunes as we can(!) and take a look at how to "choreograph" the stroke order for any tune you want to play. A must for the intentional jammer.
Intro to Jamming
Advanced beginner and up
Jamming is more than playing the tune over and over again. (Other instrumentalists will expect you to play back-up in the background while they take a break.) This class covers a range of back-up and

lead

techniques: chording by ear, chordless jamming, linear harmonies, and introductions to improvisation and extemporization.
Solo Arranging
Intermediate and up
—In this class, you'll arrange 1-2 melodies of your choosing (choose from a waltz, hymn, popular song, etc.; the Beginning Jamming class above addresses reworking jigs and reels) alongside techniques we'll apply to one or two common tunes together. Tune in the dulcimer's natural resonance as your greatest arranging asset, the technique behind

rolled chords

so they float, playing the tune musically despite the chords, the formula of the various chords and their patterns, where to place chords, when to

chord

and when not to, when to add alternate and suspended fourth (etc.) chords, assembling the overall arrangement into a meaningful story line, etc.
Or what ideas for topics have you? Contact me and feel free to dream high!

Autoharp Classes
February 19-22, 2023!

  Phoenix, Arizona:  The 2023 Phoenix Autoharp Retreat features "Fabulous Fill-Ins: How to Fill Out Tunes Intuitively", presented by yours truly!

The Phoenix Autoharp Retreat is happening again in March, with a brand new topic designed to fill in yet another blank of the How of autoharping.

Find out everything about the 2023 Retreat here!  Just to get started:

Description of "Fabulous Fill-Ins":

"Fill-ins, those extra strokes autoharpists play to enliven long melody notes, also contribute to harmony, rhythm, rock-solid tempo, energy, etc.  Stroke symbols in music scores let us fill in by eye, but is it possible to know how to fill in melodies >intuitively< by feel and by ear, almost without thinking?  YES.  All will be revealed in Fabulous Fill-Ins at the 2023 Phoenix Autoharp Retreat!"

The Retreat is limited to 14 participants to maximize on personal attention.  You will come away from the Retreat not only refreshed, but also knowing how to make your music and the autoharp sound their best.
And Here Are Some Autoharp Class Ideas (to be taught anywhere!)
Title
Level
Description
How to Play the

diatonic autoharp

—
relative beginner
Covers the basics of the "

chord-and-release

" method of autoharping (releasing the

chord

bar to access non-harmonic tones), supported by beautiful tunes enhanced by master the basics of fingering and working with the

diatonic autoharp

's natural resonance. Note: "Beginning" is a relative level. This class is geared for chromatic autoharpists with some melody-playing experience who are ready to explore

diatonic autoharp

. This workshop will focus on the keys of G and D major.
The Harmony of

diatonic autoharp

intermediate diatonic players and up
Diatonic playing often focuses on the melody, but what about all the great harmony waiting to emerge underneath and above it? This class explores harmony on two levels: 1) finding the most basic and solid melody-

chord progression

a tune can possibly have; and 2) finding other chords that slant the harmony in different ways as a vehicle towards creating solo arrangements of tunes. You'll come away from this class listening to the music you play and your autoharp in new ways. Fingering and other basics will be discussed as the need arises. Bring two tunes to work on alone in addition to tunes we play and examine together in class.
Solo Arranging
Intermediate+ players of either chromatic or

diatonic autoharp

, or both
—We'll discuss the basic elements of arranging, listen to examples of good (and bad) arrangements of tunes by non-autoharp instrumentalists, assemble arrangements of a few tunes in class, and you'll have daily time alone to arrange at least one tune you bring with you to class. Want to get started with arranging on your own? Take a look at this monograph!
Or what class ideas have you? Contact me and feel free to dream high!