B&B Lessons: what are they like?
Recently, I posted to Cyberpluckers (the autoharp list serve) about June Fessenden coming here for B&B lessons at the end of May, 2015.  One of the listers wrote me privately to ask what in the world B&B lessons are.  While you can read all about B&B lessons here, here is a little more detail about them.
B&B lessons comprise five days of instruction that I give to one student at a time.  Each B&B student stays with my husband and me (we have a modest, comfortable guest room in our home), and we host up to four students per year (that's one month of my life; each student is my job for the week).  The lessons take place at any time of the year that works for both me and the student; we decide on the time frame before a deposit is sent in to reserve it.
Anyone looking to make a difference in their playing is welcome to enroll for B&B lessons.  The students are vocationally non-musicians, yet all are interested in understanding what to do to play well.  There is no audition process, although I will say that B&B lessons fare best with experienced players who have played enough to detect musical blockages they would like to break through.  While I teach local beginners all the time in weekly private lessons, interested folks from out of town who are just learning to play dulcimer or autoharp will do well to get as much playing experience as they can before they consider coming here.  B&B lessons depend on my ability to bounce off of what the student already knows about playing the dulcimer or autoharp.
The B&B part of the lessons comes from my preparing not only breakfast, but also lunch and dinner (and treats).  If you come, be prepared to eat well, because I cook everything from scratch, even the pizza!  Linda Siemers, who was here for B&B lessons in January 2015, took these photos while she was here.  Feel free to drool over them:
[one_fourth]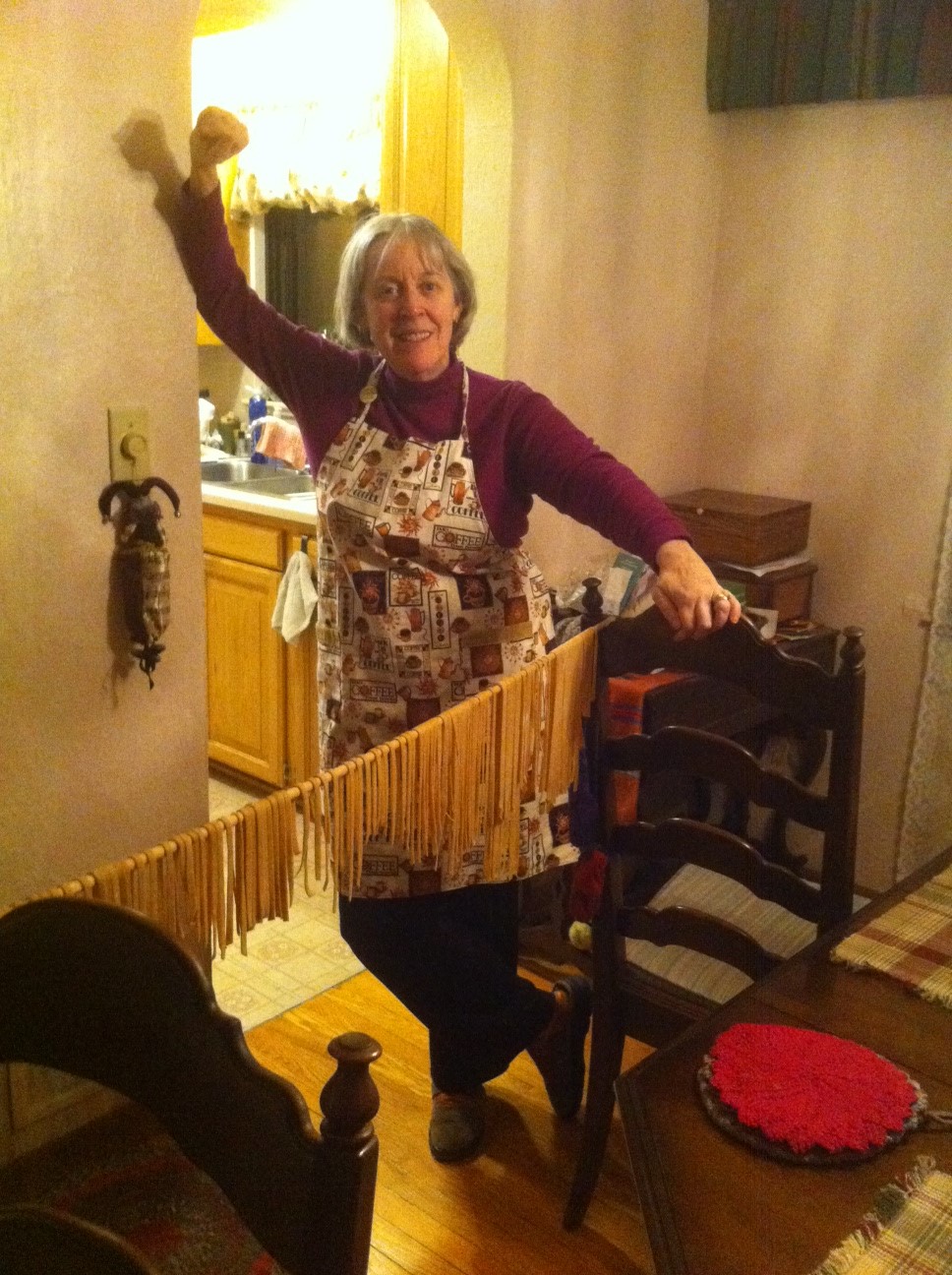 [/one_fourth] [one_fourth]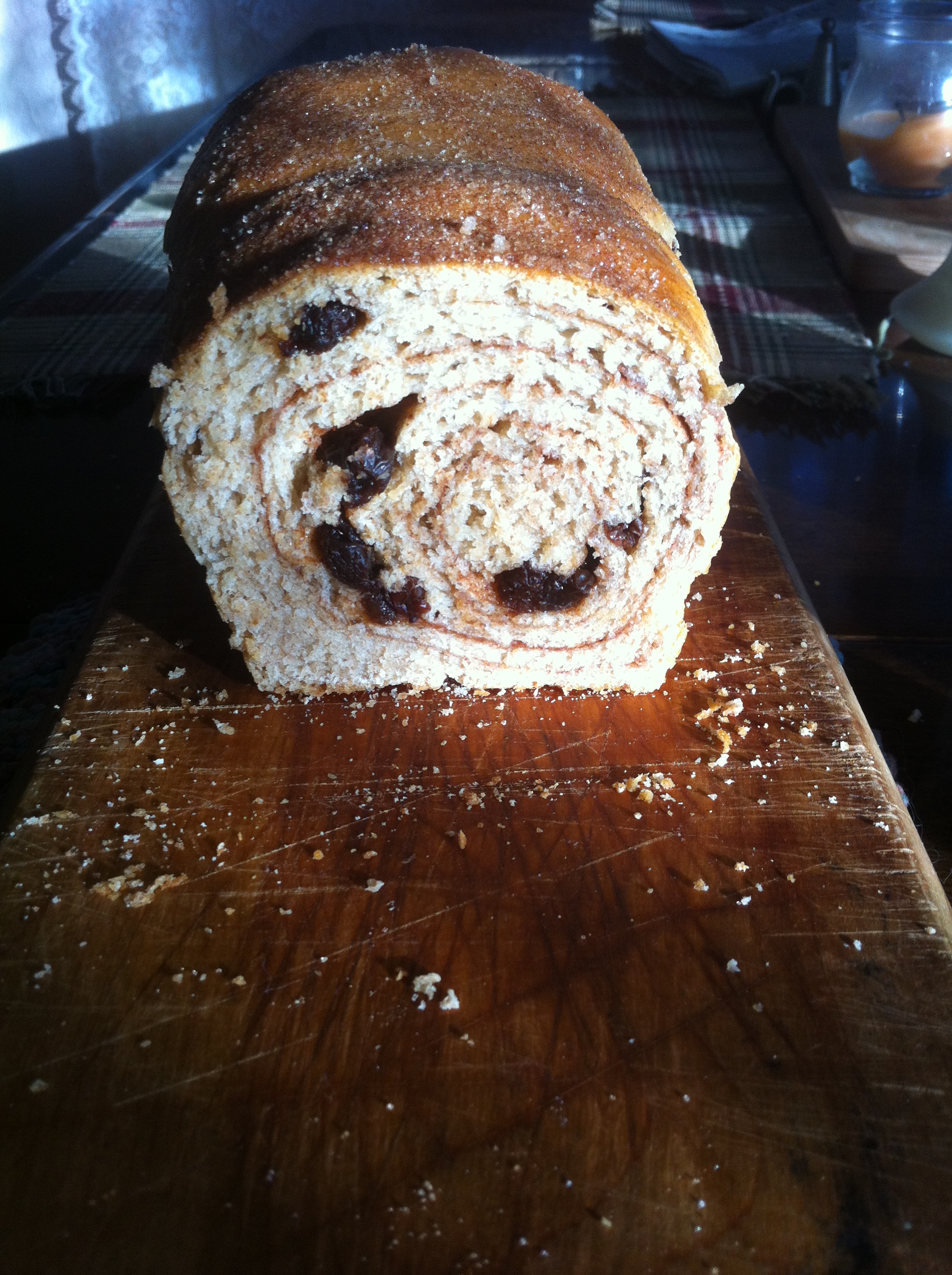 [/one_fourth] [one_fourth]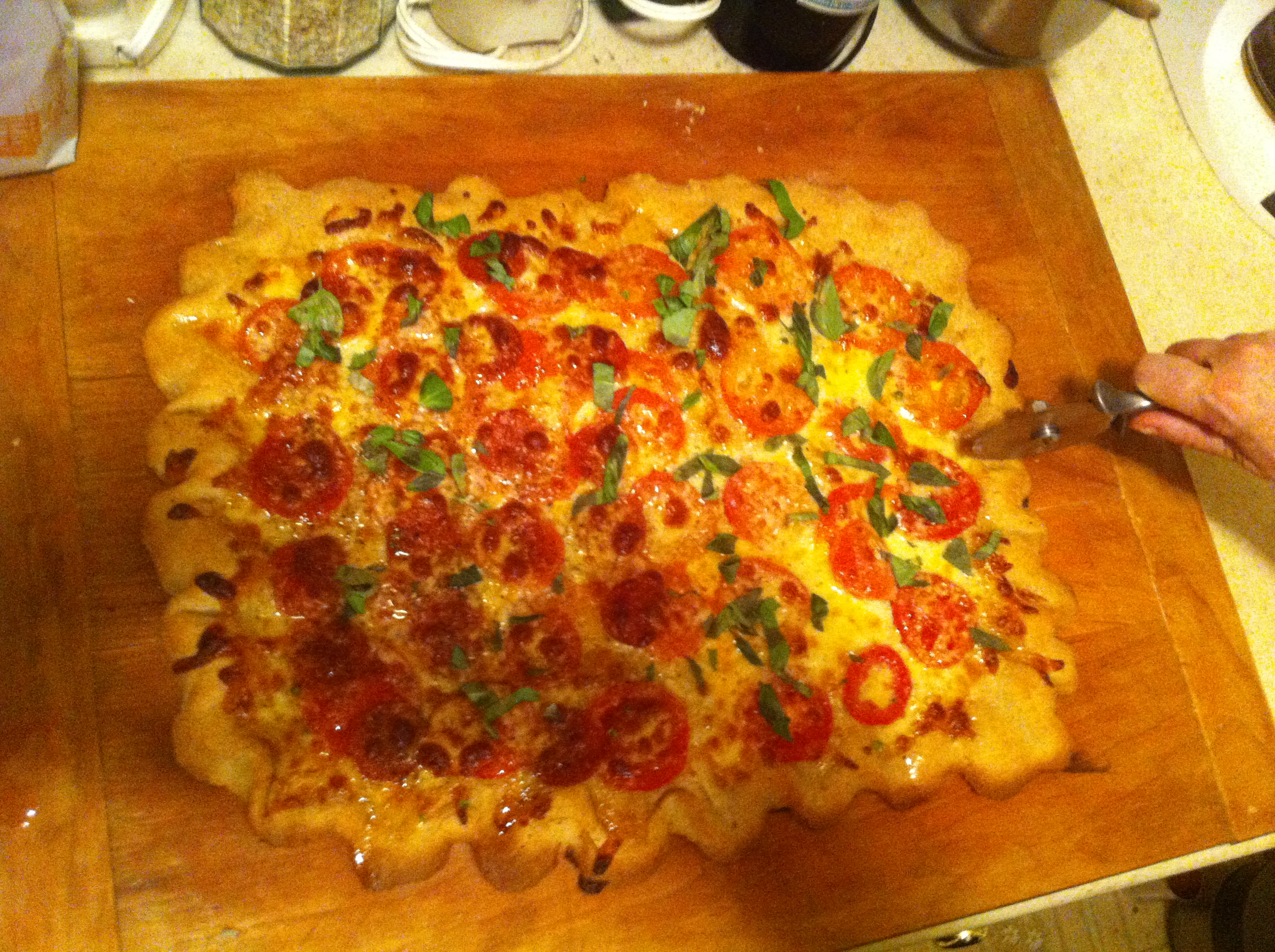 [/one_fourth] [one_fourth_last]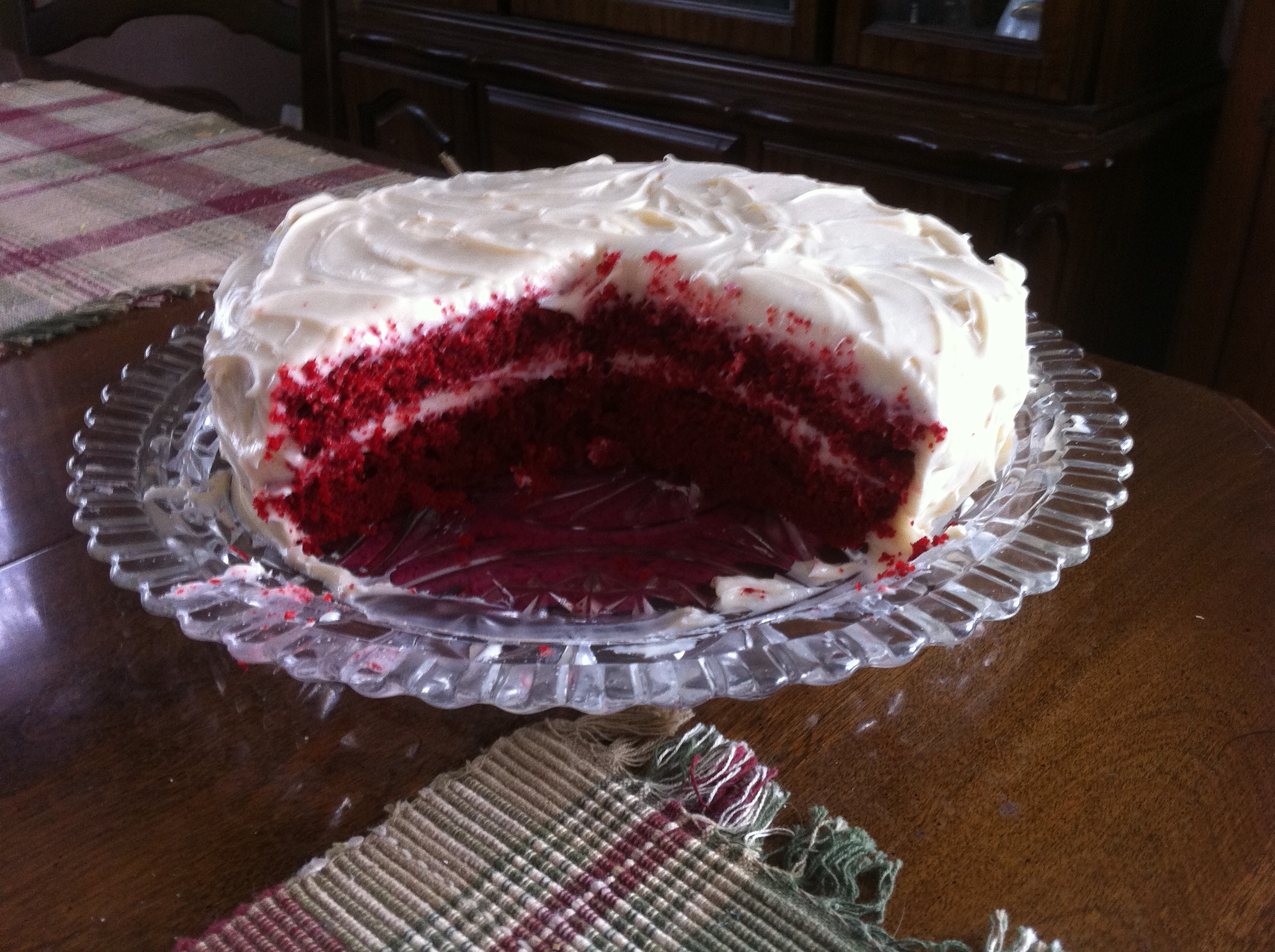 [/one_fourth_last] [one_fourth]Home-made pasta[/one_fourth] [one_fourth]Peanut Butter Cinnamon Swirl Bread[/one_fourth] [one_fourth]Pizza from scratch[/one_fourth] [one_fourth_last]Red Velvet Cake?[/one_fourth_last]
The teaching content and music played varies with each student's focus, with a common outcome of giving the student whatever s/he wants, and whatever s/he needs to achieve those wants, topped off by my personal goal to help each one sound good.  Every B&B experience is unique and therefore exciting, especially for me.  (Even though each student fills out a questionnaire well before the lessons begin, I never really know what they will throw at me until they get here.  Somehow, I thrive on that kind of uncertainty!)
The daily schedule is usually three lessons per day, with time in between to practice and rest/process.  "Right notes" are not the primary focus, and I usually don't teach tunes.  Instead, we discover how to make the right notes already in place–and mistakes!–sound beautiful.  Lessons can include, but are not limited to: how to create layers of sound, understanding the resultsof fingering or hammer order, how to move with the playing, what helps (and hinders) amazing sound, etc.  In other words, we look at what I call "the functions of musicality," all of them simple concepts that help each student magnify what he or she already knows how to do.  In recent months, I've been playing alongside the student, too.  It is a great way to model how to move through a tricky rhythm, a large leap and so on, while taking the "performance" edge off the lessons.  (I ask everyone to think "laboratory" instead of "stage.")  Eventually I stop playing but continue modeling so we both can hear just the student's instrument and efforts.
After lesson #3 (or even lesson #2) each day, we sit back and relax or have some fun on the road during my Local Dastardly Tour, The Great Plains Run, hopping the bus to downtown Denver and the like.
As June Fessenden is the first B&B student I've hosted since this blog became reality, I'd like to tell you a little about what she accomplished.  First, I got a bit of a head start working with June, because a couple months before she arrived, I stayed with her in her home while performing and teaching in her locale.  At that time, I got to hear her play during a couple of too-brief lessons, but they were enough to give me an idea of where she needed help.  She absorbed bits and pieces about my teaching style and focus during those times, and then during private lessons held in her home that I taught to other students, both June and her husband heard had the rare opportunity to hear every student's sound improve–talk about developing B&B desire!
Once June set her date range to study with me and sent a deposit, I emailed her a questionnaire to help her define her needs and give me a better idea of where the instruction might head.  The personal playing goals for this human-resources director landed lofty thoughts of competition at the bottom of her list, although some day she'd like to compete just to say she did it (and I have a feeling now that she'll have a good time doing it, regardless of the outcome).  High on her list was playing for her own enjoyment, combined with stronger music contributions in the praise team at her church.
In preparation for her lessons, June sent me .pdfs of music she wanted to work on.  As my focus would be on techniques she would need to improve her autoharp's sound and tune recognition, I steered her towards the simpler tunes on her list that would enable her to grasp technical mastery quickly (she has plenty of repertoire; it was a question of how to make that repertoire sing and know how to replicate once on her own at home).  I also asked her to bring copies of the "tougher" tunes she loves that we probably wouldn't get to in a big way, because I was sure they would provide still more examples to support the new techniques she would gain while being here.  We did sit down with them to see how the new techniques she was learning would fit in.
June's first lesson on Day One began with her playing for me so I could hear where she was at that moment.  (She was well aware of this plan beforehand–no surprises here–and I gave her some time to warm up before we began in earnest.)  Then I asked her some pointed questions, got some pointed answers, and off we went to improve her sound and increase her awareness in various ways the rest of the five days.  What a privilege to hear her music-making get better and better!  In fact, on Day Two I was upstairs in my office preparing a handout for her (a benefit of B&B lessons being in my home; all the tools and music I need are here, not to mention the kitchen) and thinking how nice it was to listen to June play on the morning of her second day!
While June encountered musical warts throughout the week (remember, I love beautiful sounding mistakes), we addressed them as they came up, all with good humor alongside (absolutely necessary!), and then she had practice time alone to smooth out the kinks.  June often observed her How of playing through a 13″ x 13″ teaching mirror propped up on a chair (it doubles as a cat bed when not in use!–we have no time for making videos; it takes too long to mess with the machinery; the mirror affords instant feedback.)  All week long, June developed her ability to zero in on listening to her sound with intention.  And the questions: she had lots of welcome questions, none too simplistic or too difficult.  Many times I repeated the same thought to drive a concept home.  (Pretty soon, a student discovers that everything we do is related.)  We stopped periodically so that June could write up how-to notes for future reference.
Mealtimes continue the teaching on a more informal basis, mingled with sharing some about our personal lives and loves: June and I are both knitters, so I was sure to include a couple yarn shops on our fun list.
A special privilege for me was tuning in to June's singing voice, and helping her sing well.  My professional-music training centered around voice, so I'm very comfortable flipping into a simple voice lesson when it's needed; even though the focus is autoharp or dulcimer, sometimes the singing voice can help.  Some students ask for singing help while they are here for instrument lessons (more so with autoharp than dulcimer), and I am always happy to offer guidance.  June gained more confidence here, and I hope she is pursuing it with gusto at home.  (Look for a blog post about the voice soon!)
All in all, June and I enjoyed a jam-packed week of good music, food and camaraderie.  We both worked diligently for the cause of beautiful music, coming away from the lessons exhausted yet fulfilled.  As I write, June is preparing an article for "Autoharp Quarterly" with even more detail, so be sure to catch up with it.
I do hope what's here gives you a better idea about what happens during B&B lessons (just about anything), so dream high if you decide to come here to study with me!
I love the B&B concept.  All kinds of great music-making happens here, and every student raises the bar in some way.  What a privilege to be part of that process!  It is inspiring to learn a lot about How to play the instruments we love with beautiful tone and musical ambition.
Are you hooked?  To set up B&B lessons, click here.