The 2018 Phoenix Autoharp Retreat
PAR is happening again, on March 4-6, 2019!  Click here for a registration form, this year's topic, and more!
On Feb. 4-7, 2018, seven eager autoharpists from Arizona, Oregon, Washington State and even Mexico, regular folks who love the autoharp and want to improve their autoharping, gathered in central Arizona for the first-ever Phoenix Autoharp Retreat (PAR).  The topic, offered to everyone who can already strum, pinch, brush and play just a few melodies, was titled Secrets of Musical Autoharping.  I as sole instructor had been jumping out of my skin for at least the previous three months while preparing the handouts, excited about helping all PARticipants play the autoharp with harmonious resonance, based on new awareness that began to show up just before heading out for the Tank experience on June 2, 2017.
[two_third]           
PAR began with meeting, greeting and eating throughout the Superbowl game, with a couple fun twists: every time there was a field goal, I played a song on my little four-hole harmonica while resident dog Patches sang (spell that howled) along.  I also played a tune on the autoharp after every touchdown in the first half, no matter the team.  Others PARticipants celebrated touchdowns on their autoharps after halftime, their spouses oblivious to our amusement while they focused on the game.
[/two_third] [one_third_last]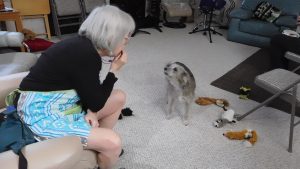 [/one_third_last]
PAR entered full swing the next morning, with a three-hour how-to session, presented slowly and with depth.
            One of the first things I said that Monday morning was that I was sure to explode some myths about playing the autoharp, a statement received with nervous giggles.  Everyone knew, though, that if the myths, whatever they were, continued to influence their playing, they would have no chance of improving their autoharps' sound.  I was determined to help everyone make tracks in this regard.
           We warmed up by strumming and pinching chords together.  I invited them to listen to what they heard, because without the ear turned on, everything I would soon teach would have no purpose. I also asked them to observe how each of them and everyone else in the group handled themselves during play.  All of this, they would find, contributed to the rough, metal-infused sound pervading the room, which would soon transform into glorious, resonant string tone.
             We then looked at the pinch, how large it is both in size and number (200+ ways to execute it!).  I also delved into the pinch's history (a subject I had just finished researching for a study about the G/D-major diatonic autoharp) to help everyone understand why we pinch the way we do, and how our perceptions of it have blocked us from orchestrating the autoharp's sound.  (Yes, blocked us!  Surprised?  You should have been there!)  We spent the rest of Monday morning remaking the pinch to produce orchestral autoharp sound(!), pinching lots in another way so that its How would "stick" well after PAR was past.  Of course, PARticipants remade my remake, which was fine, to a point: there are indeed many ways to pinch (we covered some of those other 200+, too)–except that I was after pinching this way because I've barely heard anyone else do it, ever.  And why not, when it makes the autoharp sound so good?
            After a hearty lunch, I tacked on another hour of class instruction: we had so much fun pinching on the dining-room table that morning that I ran out of time to apply it to two melodies, with resonant harmony underneath!  (What was that I said about moving slowly and with depth?!)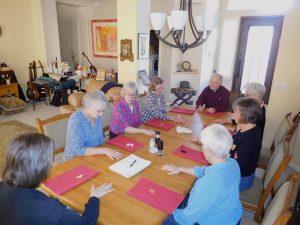 [two_third]
            The rest of Monday afternoon was devoted to Autoharping Help, when I met with each PARticipant individually about anything connected to playing the autoharp.  Topics included chords for a tune someone was learning, applying the morning's instruction to personal repertoire,
troubleshooting pain-generating issues
, playing cleanly, you name it.  Autoharping Help resumed again on Wednesday afternoon.  (I'd meant to offer Help on Tuesday afternoon, too, but we took a jaunt to the local marshmallow store.  Even the instructor needed a break and have a little fun!)
[/two_third][one_third_last]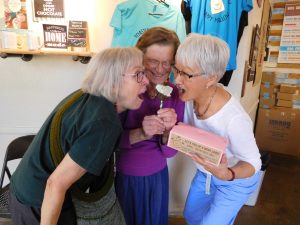 [/one_third_last]
After a warm-up/review of the pinch on Tuesday morning, next we looked at the brush: how to execute it, when and where to play it, and why the thumb has almost nothing to do with it.  (Still surprised?  Now we really wish you had joined us!)
With all ears 100% turned on, we continually focused on feeding the ear great sound, because that's what needs to be pleased first.  By approaching the autoharp by what we hear coming out of it, playing "right" or "wrong" are way too small in anyone's thinking and approach.  The autoharp tells us how we are doing by how it sounds when we play, but only when we listen.  When we like the sound we hear, it's good.  That's all we need to know.
Expanding the view on the pinch and brush amply filled minds and satisfied souls for two days.  On Wednesday morning, we simply played to "burn it all in" and listen all the more.  A few bars into one of our two "token songs" together (after all, the string hand was our focus, rather than repertoire), I stopped playing along to hear the group's collective sound.  Their playing stopped me short: here was the first time I had ever heard solid, firm tone come out of a group of autoharpists (anyone who knows my autoharp background even a little knows that I've taught a lot of groups over the last 20+ years).  I told them so, adding "this was worth the price of admission," tears welling up in my eyes.  I have believed for a long time that good sound can be produced by anyone, and these folks proved that it can be done!  Together, we fulfilled the Retreat's intention.  Why harbor any secrets about musical autoharping?  This is all good, basic stuff that every autoharpist needs to know.  We all hope to see this small start swell throughout the autoharp community.
[two_third]
            We celebrated three days of meaningful music-making with an afterglow dinner at a fine little bistro Wednesday evening.  June Fessenden and Midori Hall knocked their socks off to make every meal and this dinner (all included in the fee) amazing.  (I joined the culinary act by making Broncos Salsa for the Superbowl, a healthy, chocolate-y dessert made without chocolate–!–and two Ohio Shaker Lemon Pies for the group, made with lemons right off the tree, with Midori's home-made pie dough!)  We began dinner by toasting June and Midori for making PAR possible, ourselves for amazing musical moments, and the autoharp for being in our lives and bringing us together.
[/two_third] [one_third_last]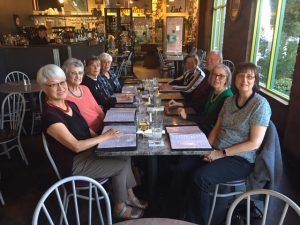 [/one_third_last]
Addendum: The day after PAR finished, Midori invited her Juilliard–trained violin teacher to her house for dinner.  Midori played one song for him on the autoharp, first with pre-PAR technique and then with post-PAR technique for comparison, after which he had to talk to me.  He left this voicemail message:
"…I actually haven't heard that much autoharp over my life, so I thought it was…almost like a clunky instrument.  But after what you did, it now sounds very melodic and very legato, so:  very, very nice work.  I'd love to meet you some time.  Thank you."
            YES, there will be a PAR 2019!  Click here for the scoop!  Be sure to join us as we explore yet another autoharping topic that will transform your playing and sound.
Below: June Fessenden, me and Midori Hall, all wearing matching, fun-fashion necklaces with earrings!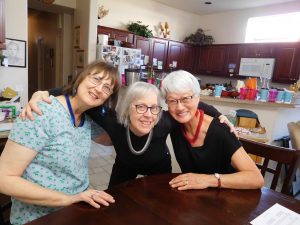 All photographs by Jim Hall.